DOQS SIX SIGMA SERIES
Six Sigma Improvement I
This course provides introductory process improvement training using the DMAIC lifecycle approach. It is intended for anyone who solves problems that require process improvement, or anyone who will be involved as a member of a process improvement team. (Process improvement teams typically attend this course together.) This course emphasizes the basic interaction of Six Sigma tools and techniques across the improvement lifecycle, with particular emphasis on the Define, Analyze, and Improve phases. (3 days, $16,500, Prerequisite: Fundamentals of Six Sigma)
Process Coverage

Lifecycle Coverage (DMAIC)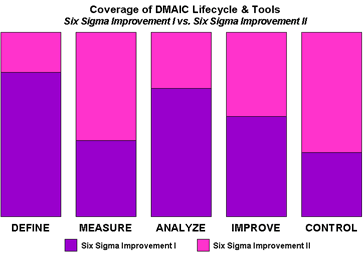 Define Phase - Heavy coverage is provided on proper definition and scoping of the improvement project, with emphasis on clearly articulating the particular problem, or set of problems, that the project is intended to correct.
Measure Phase - Defining the "as is" process is emphasied, with sufficient measurement and monitoring taking place to establish a quantitative profile of the process. Defect definitions, coupled with basic measurements, allow a sigma level to be assigned to the "as is" process.
Analysis Phase - The "as is" process starts to shift to the "to be" process as failure mode analysis begins to identify improvement controls and opportunities for improvement.
Improve Phase - Opportunities that have been identified are design and implemented into the process, and plans are made for roll-out and sustainability of improvements.
Control Phase - The improved process is implemented, and measurements are taken to assur ethe desired impact and usage over time. Project close-out includes a comparison of original "as is" sigma level to the newly improved measurements.
Tool Coverage
Problem Statement
Thought Map
SIPOC
Process Map
Cause & Effect Matrix
Measurement Plan
Voice of the Customer (VoC)
Process Capability (Cp, Cpk)
Sigma Score
Failure Mode and Effect Analysis (FMEA)
Cause & Effect Diagram (a.k.a. Fishbone, Ishikawa)
Control Plan
Additional Coverage
Basic descriptive statistics
Measure System Evaluation (MSE)
Defects vs. Defectives
Defects per Unit (DPU)
Defects per Million Opportunities (DPMO)