DOQS ORGANIZATIONAL DEVELOPMENT SERIES
Mission Focused Planning
Failure to identify the business context for process improvement results in the adoption of solutions that can fail to resolve genuine underlying problems. Why is so much money and time being spent on process improvement programs that do not result in improvements? What is the missing link?
The Goal-Oriented Framework in this seminar provides the missing link. This seminar offers management a
perspective on how to set a direction for the organization to drive the initiation of a process improvement program. It teaches managers and staff how to effectively articulate a vision and mission statement for their organization; how to define business goals and objectives to support the mission and promote the vision; and how to translate those objectives into critical success factors for deployment to process improvement teams.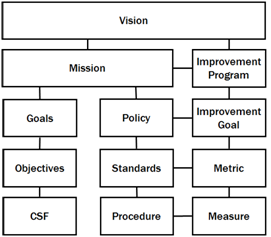 This seminar:

Explores the factors that influence an organization's desire or need to improve

Describes the models and solutions typically adopted and describes reasons for failure in the absence of a clear direction for improvement

Explains the Goal-Oriented Framework and how this framework provides the link among business
direction, process maturity, and process improvement initiatives
Describes how to articulate a sound vision and mission statement and define why most existing
statements fail to achieve the desired results
Stresses the importance of clearly defined goals that cover the breadth of the mission statement,
and covers how to realistically weight the goals and target implementation based on existing organizational capabilities
Explains how to translate goals into resources, time frames, and steps needed to effectively
implement process change initiatives

Explores how the business objectives and critical success factors get deployed through management policies and implementation of a formal improvement program

Topical Outline

WHAT PROCESS IMPROVEMENT ENTAILS

THE GOAL-ORIENTED FRAMEWORK
Dynamic Feedback Loops

VISION & MISSION

Systems Theory Implications

BUSINESS GOALS

Core Competencies

The 3-Futures Model

BUSINESS OBJECTIVES

Critical Success Factors

DEPLOYING IMPROVEMENT

Organizational Friction

Management vs. Staff Role